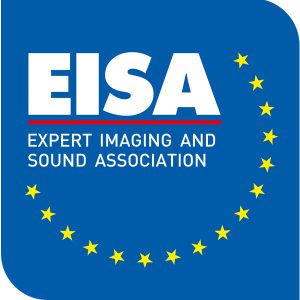 Elk jaar op 15 augustus ontdek je bij FWD Magazine en de andere wereldwijde leden van de EISA-organisatie welke producten verkozen werden tot de beste in hun categorie. Ook dit jaar bogen de bijna 60 leden zich over soundbars, tv's, platenspelers, luidsprekers en nog veel meer productgroepen. Welke producten een prestigieuze EISA Award in de wacht slepen, leest u elders op deze website of in nummer 99 van FWD Magazine.
De EISA Awards zijn uniek voor verschillende redenen. Om te beginnen bestaat EISA uit magazines en websites uit heel de wereld. Historisch waren er enkel Europese leden, maar sinds 2018 zijn er ook uit Canada, de V.S., Japan, China en Australië. Die diversiteit is uniek. Elk lid is bovendien een medium dat gekenmerkt wordt door een onafhankelijke houding en gedegen testwerk. Dat is ook de basis van elke EISA Award. Een product krijgt zo'n award pas op basis van een stemming onder de leden, waarbij enkel geteste toestellen een kans maken.  Het betekent ook dat winnende producten breed beschikbaar moeten zijn in vele landen. Er wordt ook gekeken naar de verschillende prijspunten. Zo zijn er high-endproducten die technisch excellent zijn, maar ook betaalbare producten. Een awardwinnaar is dus echt een referentie die uitstekende prestaties biedt. In de bijhorende citation wordt uitgelegd op welke gebieden een product uitblinkt.
De EISA bestaat uit verschillende expertgroepen die zich buigen over specifieke productsegmenten. FWD Magazine is lid van Home Theatre Audio (soundbars, AV-receivers en surroundapparatuur), HT Video (televisies en beeld) en Hi-Fi (alles met betrekking tot stereo). Verder heb je nog Mobile (smartphones en meer), Photography en In-car. FWD Magazine-hoofdredacteur Jamie Biesemans is sinds 2016 manager van de Hi-Fi Expertgroep. Een overzicht van alle leden en uitleg over EISA vind je overigens op eisa.eu.
Ook dit jaar zorgden een aantal factoren voor een uitdagende verkiezing. Hoewel het ergst van de coronaepidemie achter ons liggen, heerst er nog altijd componentenschaarste, zijn logistieke ketens verstoord en grondstoffen duur. Dat is meer voelbaar in bepaalde segmenten dan anderen, zoals bij tv's en mobile producten. Opvallend zijn dan weer de grote hoeveelheden nieuwe producten op hi-fi vlak en bij home theatre audio. Bij die laatste zijn er veel AV-receivers verschenen, bijvoorbeeld.
Via de links bij onder aan dit artikel ontdek je per expertgroep de winnaars..
We hopen in elk geval dat de EISA Awards ook in 2023 je kunnen helpen als leidraad wanneer je op zoek gaat naar een nieuwe tv, soundbar, luidspreker, draaitafel of ander AV-product. Hieronder vind je de links naar de drie expertgroepen en hun awards. Wil je weten wie er nog deel uitmaakt van EISA? Check dan de EISA-website op eisa.eu.
EISA AWARDS 2023-24 FULL LISTING
Photography Expert Group
EISA CAMERA OF THE YEAR 2023-2024
Nikon Z 8
EISA ADVANCED FULL-FRAME CAMERA 2023-2024
Sony Alpha A7R V
EISA FULL-FRAME CAMERA 2023-2024
Canon EOS R6 Mark II
EISA CONTENT CREATOR CAMERA 2023-2024
Sony ZV-E1
EISA APS-C CAMERA 2023-2024
Fujifilm X-H2
EISA BEST BUY CAMERA 2023-2024
Canon EOS R8
EISA VIDEO CAMERA 2023-2024
Panasonic Lumix S5IIX
EISA LENS OF THE YEAR 2023-2024
Sony FE 20-70mm F4 G
EISA WIDEANGLE ZOOM LENS 2023-2024
TAMRON 20-40mm F/2.8 Di III VXD
EISA STANDARD PRIME LENS 2023-2024
Sony FE 50mm F1.4 GM
EISA PORTRAIT LENS 2023-2024
Nikon NIKKOR Z 85mm f/1.2 S
EISA TELEPHOTO LENS 2023-2024
Canon RF 135mm F1.8L IS USM
EISA SUPER-TELEPHOTO LENS 2023-2024
Nikon NIKKOR Z 400mm f/4.5 VR S
EISA TELEPHOTO ZOOM LENS 2023-2024
TAMRON 50-400mm F/4.5-6.3 Di III VC VXD
EISA SUPER-TELEPHOTO ZOOM LENS 2023-2024
SIGMA 60-600mm F4.5-6.3 DG DN OS | Sports
EISA MACRO LENS 2023-2024
OM System M.Zuiko Digital ED 90mm F3.5 Macro IS Pro
Combined Award with Mobile Expert Group
EISA MULTIMEDIA SMARTPHONE 2023-2024
Sony Xperia 1 V
Hi-Fi Expert Group
EISA STANDMOUNT LOUDSPEAKERS 2023-2024
MoFi SourcePoint 8
EISA FLOORSTANDING LOUDSPEAKERS 2023-2024
Bowers & Wilkins 703 S3
EISA PREMIUM FLOORSTANDING LOUDSPEAKERS 2023-2024
Perlisten R7t
EISA HIGH-END LOUDSPEAKERS 2023-2024
Wilson Audio Alexia V
EISA WIRELESS BOOKSHELF LOUDSPEAKERS 2023-2024
KEF LSX II
EISA WIRELESS ON-WALL LOUDSPEAKERS 2023-2024
System Audio Silverback 1
EISA WIRELESS FLOORSTANDING LOUDSPEAKERS 2023-2024
Dynaudio Focus 50
EISA HEADPHONES 2023-2024
Meze Audio 109 PRO
EISA STREAMER 2023-2024
iFi Audio NEO Stream
EISA DAC 2023-2024
Ferrum Audio WANDLA
EISA DIGITAL PLAYER 2023-2024
Volumio Rivo
EISA HIGH-END CD PLAYER 2023-2024
Hegel Viking
EISA TURNTABLE 2023-2024
Thorens TD 204
EISA VINYL SYSTEM 2023-2024
Pro-Ject T2 W
EISA INTEGRATED AMPLIFIER 2023-2024
NAD C 3050
EISA BEST VALUE STREAMING AMPLIFIER 2023-2024
SVS Prime Wireless Pro SoundBase
EISA COMPACT STREAMING AMPLIFIER 2023-2024
Bluesound POWERNODE EDGE
EISA STREAMING RECEIVER 2023-2024
Yamaha R-N2000A
EISA HIGH-END INTEGRATED AMPLIFIER 2023-2024
Musical Fidelity Nu-Vista 800.2
EISA HIGH-END STREAMING AMPLIFIER 2023-2024
Hegel H600
EISA HIGH-END HEADPHONE SOLUTION 2023-2024
dCS Lina System
EISA HIGH-END HEADPHONES 2023-2024
Yamaha YH-5000SE
Combined Award with Home Theatre Audio Group
EISA LOUDSPEAKER SERIES 2023-2024
KEF R Series
EISA POWERED STANDMOUNT LOUDSPEAKERS 2023-2024
Klipsch The Sevens
Combined Award with Mobile Devices Expert Group
EISA PREMIUM WIRELESS HEADPHONES 2023-2024
T+A Solitaire T
EISA MOBILE DAC 2023-2024
iFi Audio GO pod
Home Theatre Audio Expert Group
EISA BEST BUY AV RECEIVER 2023-2024
Onkyo TX-RZ50
EISA AV RECEIVER 2023-2024
Primare SPA25
EISA PREMIUM AV AMPLIFIER 2023-2024
Denon AVC-A1H
EISA BEST BUY SOUNDBAR 2023-2024
JBL Bar 300
EISA SOUNDBAR 2023-2024
Loewe klang bar3 mr
EISA PREMIUM SOUNDBAR 2023-2024
Bang & Olufsen Beosound Theatre
EISA SOUNDBAR SYSTEM 2023-2024
Yamaha True X series
EISA HOME THEATRE POWER AMPLIFIER 2023-2024
Musical Fidelity M6x 250.7
EISA HOME THEATRE SUBWOOFER 2023-2024
Perlisten D212s
Combined Award with Hi-Fi Expert Group
EISA LOUDSPEAKER SERIES 2023-2024
KEF R Series
EISA POWERED STANDMOUNT LOUDSPEAKERS 2023-2024
Klipsch The Sevens
Combined Award with Home Theatre Video & Display Expert Group
EISA HOME THEATRE DISC PLAYER 2023-2024
Magnetar UDP800
Home Theatre Video & Display Expert Group
EISA BEST BUY MINI LED TV 2023-2024
Ηisense 65U7KQ
EISA BEST BUY OLED TV 2023-2024
Philips 55OLED808
EISA BEST BUY PROJECTOR 2023-2024
XGIMI HORIZON Ultra
EISA HOME THEATRE PROJECTOR 2023-2024
BenQ W4000i
EISA MINI LED TV 2023-2024
Ηisense 65U8KQ
EISA HOME THEATRE MINI LED TV 2023-2024
TCL 65C845
EISA GAMING TV 2023-2024
TCL 55C745
EISA FAMILY TV 2023-2024
Philips 55PUS8808
EISA PREMIUM OLED TV 2023-2024
Samsung 77S95C
EISA GIANT TV 2023-2024
TCL 98C735

Combined Award with Home Theatre Audio Expert Group
EISA HOME THEATRE DISC PLAYER 2023-2024
Magnetar UDP800
Combined Award with Mobile Devices Expert Group
EISA PORTABLE PROJECTOR 2023-2024
XGIMI MoGo 2 Pro
Mobile Devices Expert Group
EISA BEST BUY SMARTPHONE 2023-2024
Honor 90
EISA CONSUMER SMARTPHONE 2023-2024
OPPO Reno10 Pro
EISA SMARTWATCH 2023-2024
Honor Watch GS 3
EISA PREMIUM PORTABLE SPEAKER 2023-2024
Bang & Olufsen Beosound A5
EISA PREMIUM SMARTWATCH 2023-2024
Huawei Watch Ultimate
EISA BEST BUY WIRELESS HEADPHONES 2023-2024
Philips Fidelio L4
EISA IN-EAR HEADPHONES 2023-2024
Philips Fidelio T2
EISA MOBILE DAC 2023-2024
iFi Audio GO pod
EISA BEST BUY PORTABLE SPEAKER 2023-2024
Pure Woodland
Combined Award with Photography Expert Group
EISA MULTIMEDIA SMARTPHONE 2023-2024
Sony Xperia 1 V
Combined Award with Mobile Devices Expert Group
EISA PORTABLE PROJECTOR 2023-2024
XGIMI MoGo 2 Pro
Combined Award with Hi-Fi Expert Group
EISA PREMIUM WIRELESS HEADPHONES 2023-2024
T+A Solitaire T
In-Car Electronics Expert Group
EISA IN-CAR HEAD UNIT 2023-2024
Alpine HDS-990 Status
EISA IN-CAR AMPLIFIER 2023-2024
Ground Zero GZUA 6SQ
EISA IN-CAR DSP AMPLIFIER 2023-2024
Mosconi Gladen One 8|10 DSP
EISA IN-CAR SOUND PROCESSOR 2023-2024
ESX QE812SP
EISA IN-CAR DSP SOFTWARE 2023-2024
Audison bit Drive
EISA IN-CAR SPEAKER SYSTEM 2023-2024
Ground Zero GZPC 165.3SQ-ACT
EISA IN-CAR SUBWOOFER 2023-2024
Morel Ultimo PowerSlim PS12D
EISA IN-CAR OEM PREMIUM AUDIO SYSTEM 2023-2024
Maserati GranTurismo with Sonus faber High Premium Audio System
EISA IN-CAR INTEGRATION 2023-2024
Helix Compose Platform
EISA MOTORCYCLE AUDIO COMPONENT 2023-2024
Rockford Fosgate HD9813RG-STAGE3